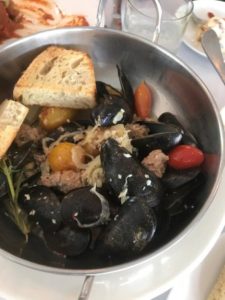 San Remo is an ancient city on the Italian Riviera steeped in tradition. It is a tourist hotspot, in part, because of its tradition for fresh seafood. This recipe is a classic, capitalizing on the bounty of plump, delicious mussels off the Maine coast. The Bangs Island and Blue Hill mussels are meaty, but tender and tasty if you don't overcook them. Rob's advice on the timing is important to follow…because it works!
¾ lb Bangs Island or Blue Hill mussels
2 Tbl sliced garlic
1/4 cup bulk hot Italian sausage (your favorite cased is fine too)
1 sprig rosemary (Whole)
1/4 bunch thyme (Whole)
1 medium fennel bulb sliced fine
1/4 cup of cherry tomato or your favorite heirloom chopped
3 Tbl extra virgin olive oil
1/3 cup white wine (Bag n Box Chablis, Sauv Blanc, pinot grigio etc. NOT chardonnay or riesling,)
2 or 3 nice leaves of basil
In cold sauté pan, place, oil, sausage, garlic, rosemary, thyme, fennel, (pinch of chili flake if desired). Turn heat up to medium, stirring occasionally.  Heat until garlic and fennel start to get translucent. Turn heat to medium high and add mussels. Toss or stir a couple of times. Add white wine and cover pan. Allow to simmer for 3 to 6 minutes checking the condition of mussels. If 95% are open they are done. Add basil. Toss again and serve with extra bowl for shells and your favorite crusty bread for dipping.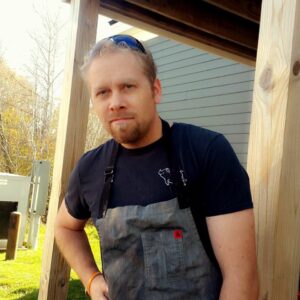 Rob Martin is Executive Chef at 1652 Restaurant in York Maine.