More than 65 million sockeye salmon returned to Bristol Bay, Alaska this year, setting an all-time record and proving, yet again, that healthy habitat and sound management lead to productive fisheries. Home to the world's largest wild sockeye run, the watershed provides the cold, clear salmon-spawning waters that ultimately support more than 16,000 jobs and a $2.2 billion annual economic boost.
Perhaps recognizing the ecological and economic value Bristol Bay provides to the state, the US Army Corps of Engineers denied the federal permit request for the proposed Pebble Mine last November.
So why are we still talking about it?
In a nutshell, greed. Geologists for Canadian-based Northern Dynasty Minerals, which owns the rights to the mine site at the headwaters of two of the bay's most productive river systems, believe the area is home to a massive ore deposit of copper, gold and other precious metals. The company and its investors see huge profits.
Everyone else, including a majority of folks in the state, sees a humongous threat to the very lifeblood of Bristol Bay and to the state.
Bumpy ride
I've talked to many folks directly connected to the bay during the past five years: commercial fish harvesters, recreational fishing lodge owners, processors, economic development directors, scientists, and indigenous leaders whose communities depend on the salmon for their lives. They are determined and fiercely committed to defending the natural resource.
And they're tired of the seemingly endless battle to safeguard their livelihoods from the zombie mine that won't die. Standing up to foreign, well funded mining interests for close to two decades has been an emotional, psychological, and at times physical roller coaster.
The long, pitched battle appeared near an end in 2014 when the Obama Administration Environmental Protection Agency released proposed protections that would block certain mining activities in Bristol Bay's headwaters. Unfortunately, the EPA wasn't able to finalize that determination due to a legal challenge from the mine's owners.
The tug of war over this priceless natural resource continued, as the US Army Corps of Engineers appeared close to approving the federal wetlands permit last August. One tweet from Donald Trump, Jr. and a series of scathing under-cover videos showing Pebble's owners bragging about political strong-arming and lying about the mine's scale, and the momentum turned on a dime. Suddenly the mine's inevitability seemed very tenuous. Optimism for Bristol Bay's future grew, and the US Army Corps denied the permit in November.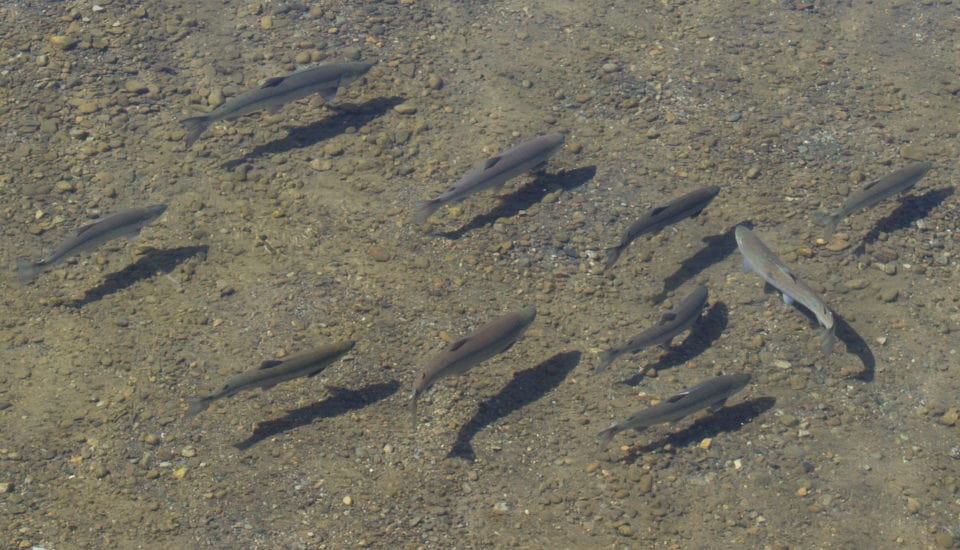 Closing the door
To be sure, the mine's owners have vowed to keep fighting, and have filed an appeal with the US Army Corps of Engineers requesting a reconsideration of the permit denial.
That's why everyone should take notice, regardless of geography. This isn't a NIMBY issue. What happens in Bristol Bay sends tremors throughout the continental US. If a giant mine can be forced upon people who don't want it in an ecologically and economically crucial watershed in Alaska, what would stop something similar from going in an equally sensitive and important area elsewhere?
You might ask what could go wrong if Pebble were to be built. This week marks the seven-year anniversary of when the Mt. Polley mine in British Columbia failed, dumping 6.6 billion gallons of toxic waste in the Fraser River watershed, once home to millions of returning wild salmon. The Pebble Mine would produce 10.2 billion tons of toxic waste, which if unleashed, could permanently destroy the Bristol Bay salmon fishery.
Several politicians have changed their tune, now voicing support for Bristol Bay and the effort to compel EPA to outright stop the Pebble project via the Clean Water Act. They've done so as the people of Bristol Bay have collectively asked the Biden administration to finish the job started in 2014 of putting Clean Water Act protections in place immediately. In fact, August 8 is the one-year anniversary of candidate Biden's pledge to protect the bay.
Invoking the Clean Water Act is the most direct and immediate path toward ensuring robust sockeye returns. It's an important first step that should happen soon to ensure the process can be fully completed … prior to the next presidential election when yet another political momentum shift could again change the dynamic.
Following an EPA Clean Water Act determination, the next step to permanently protect Bristol Bay would be a Congressional declaration that safeguards the entire watershed from any harmful mining projects in perpetuity.
U.S. Senator Lisa Murkowski is exploring what that potential legislative solution could look like, meeting with local Bristol Bay leaders and stakeholders earlier this summer.
Again, Step 1 is to call on the EPA to do its job and protect Bristol Bay and its priceless natural resources.
To learn more or get involved, check out the resources below.
Resources
Stop Pebble Mine Now: Great resource site with direct action links, like telling EPA to do its job.
Brief video from #vetoPebbleMine featuring dear friend and colleague Capt. Kat Carscallen explaining what's at stake.
Video produced by the United Tribes of Bristol Bay.
Follow these links to hear One Fish Foundation interviews with some of the folks from around Bristol Bay:
Top Photo: Upper Naknek River, where I watched a steady parade of chrome-colored, pre-spawn sockeye pushing their way upriver in 2019.