Szechuan Fish Noodle Bowl with Cusk.
Asturian Fried Monkfish with Padron Pepper, Lemon Aioli.
Korean Steamed Fluke.
Prosciutto wrapped monkfish with saffron risotto and tomato butter.
These incredible dishes are not menu items from a high-end global fusion seafood restaurant in New York. They were some of the entrees available to University of Massachusetts, Amherst students during the KNOW FISH Dinner® hosted at the Hampshire Dining commons on March 29.
This Slow Fish Rising Tide event was a collaboration between One Fish Foundation, Slow Fish North America, Slow Food USA, UMass Amherst Dining Services, and Red's Best. The seed was planted five years ago when I participated in a panel discussion with UMass Amherst Executive Chef Bob Bankert. We were at a Farm to Institution New England Summit talking about the rubric for consistently sourcing responsibly harvested seafood at universities, hospitals, prisons, and other institutions.
At the time, Bob and I talked about possibly collaborating on a project to elevate the discussion around responsibly sourced seafood with students, faculty, and staff.
Fast forward to January of this year when Renee Ciulla, professor with the University of Massachusetts Amherst Stockbridge School of Agriculture contacted me about possibly visiting her Global Food Systems class this spring. Synchronicity!
I spoke with Renee's class on March 29. Prior to my presentation, Kathy Wicks, Director of Sustainability at University of Massachusetts Dining Services/Auxiliary Enterprises, spoke about the amazing work the school's office of sustainability does to reduce food waste on campus. Some programs include reducing single-use plastic and incorporating compostable containers that yield chemical-free compost. I also learned the school serves upwards of 50,000 meals a day.
My discussion focused on the colossal waste in the industrial farmed salmon industry. I shared some stats with them about the size of global production (2.9 million tons in 2022); the average mortality of all farmed salmon due to disease, sea lice, low dissolved oxygen and other factors (15-20% per year); and the ballpark figure of how much wasted protein that represents (about 435,000 tons or 870,000,000 million pounds) in 2022.
This was the backdrop for understanding why knowing where our seafood comes from matters. And that conversation was also the prelude to the KNOW FISH Dinner. Kathy Wicks helped coordinate and host the dinner, (along with Bob, Renee and several other folks), as part of the school's Dining for a Cooler Planet series. Kathy also moderated a panel discussion about our connection to seafood in front of about 70 students, faculty and staff in a private room off the main dining area.
Jared Auerbach, owner an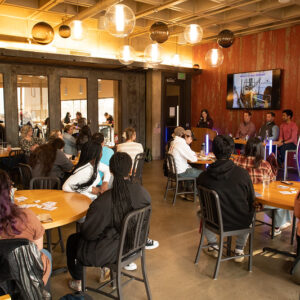 d founder of Red's Best, talked about the importance of telling the story of the independent, owner-operator fishermen who source the fish his company provides to UMass Amherst and other institutions. That transparency, and the flexibility of working with chefs to source what is locally and seasonally available, are crucial to ensuring that Red's Best delivers seafood with values, he said.
Deion Jones, Slow Food USA Director of Network Engagement, talked about building community around shared values, and what starting a Slow Food community on campus might look like. Some students have already expressed interest in doing so.
Students asked thoughtful questions about ecolabels, seafood fraud, human rights issues, and the environmental impact of the global seafood supply chain. They also dug into what seafood with values means, and how they might apply that going forward on a personal level, and possibly share the message as well.
After the panel discussion, we broke into smaller conversations. The dining staff brought samples of seafood dishes to each table so attendees could try the delicious takes on cusk, fluke, and monkfish Bob Bankert and his team cooked perfectly. (By the way, UMass Amherst has consistently ranked number one in food quality in the country!) During that evening, the staff at Hampshire Dining Commons served more than 2,500 sustainable seafood meals sourced from Red's Best.
And that Szechuan noodle bowl? It was outstanding!
Top photo: KNOW FISH Dinner panel discussion at UMass Amherst. Left to right: Kathy Wicks of UMass Amherst; Colles Stowell; Jared Auerbach, of Red's Best; Deion Jones of Slow Food USA. Photo Courtesy UMass Amherst