Plan for them all you want, but rich experiences often require overcoming some challenges, adapting to surprises and simply making do.
In the past two weeks in Bristol Bay, Alaska, I've watched massive brown bears stroll along the banks of the rivers I was fishing as they searched for their own meals, passively taking notice of us humans. Breathtaking.
I've picked fish out of set nets by hand, learning from a master how to extricate gill plates, untangle fins and bleed the fish quickly and efficiently as we practiced a centuries-old ritual. Working three sets in a 15-hour period gave me a glimpse at just how demanding a full four-week season must be.
I've toured one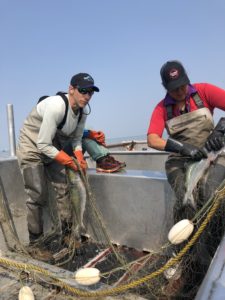 of the eight or so big processing facilities that represent half of the commercial fishing economic equation in Naknek. One million fish a day are vacuumed up a large pipe from the waterfront to a huge warehouse with hundreds of hairnetted seasonal workers that head, tail, gut and fillet the fresh fish. The salmon are then either frozen and packed, or smoked, frozen and packed, each fixed with the private label of one of the fishermen who contract with the plant. It is a very smooth operation.
I've hitchhiked (for the first time, feeling at once a tad uneasy and adventurous) along the Alaska Peninsula Highway between Naknek and King Salmon, shortening the 15-mile distance, saving the $40 cab fare (and the $255 per day to rent a Kia) and meeting some really interesting people along the way. Hippie Doug may be a transplant from the 80s, but he sure seems to have carved out a creative, if off-color niche for himself smoking salmon in Bristol Bay.
The flora and fauna
I've checked off a significant, life-long bucket list item: fly fishing Alaska's wild rivers and streams, catching a variety of stunning salmonids with different flies and approaches. The red flame of the rainbow trout and the iridescent pink spots of the Dolly Varden or Arctic Char are seared in memory, recalled at will. Same with the small chrome blue thumbprint marks along the sides of the 30 or so 2-8 inch king salmon smolts I caught while fishing King Salmon Creek alone.
Finding relatively fresh bear, moose and caribou tracks in the same vicinity along one of the creek's banks spoke to the remarkable stable of wildlife in this place. I found a new sense of awareness following well-worn bear trails along the creek, mindfully following the advice I learned at "Bear Camp" at Brooks Creek by keeping a running conversation with myself. Ironically, I recounted a story I made up for my toddler daughter called "Esty and the Bear Cub."
I drank in everything Nature had to offer. The colors of the fireweed, Toadflax (aka, butter and eggs), some form of lupine, something possibly called Mouse Ear Chickweed and countless other flowers I couldn't identify. On one trek back from Contact Creek, I took in the cool shape and color of not-quite-ripe cloudberries, and the plethora of blueberry bushes along the trail, promising yet another ample food supply for bears, people and other critters in the next few weeks.
Bald eagles were fairly common, as were magpies, chickadees and some type of thrush providing the soundtrack for the wondrous ecosystem. On the flight from King Salmon to Dillingham, I watched beluga whales swimming in formation, chasing down a school of sockeye.
The people
I've also met some wonderful people who are corporeally and spiritually rooted to the land, the water and the resource. I was struck by their generosity, their openness and the power of their convictions. I spoke with both transplants and those whose roots to Bristol Bay extend for generations.
Al Aspelund and his wife Lou were my endearing hosts at Al-Lous B&B in Naknek. At 88, he is a consummate putterer, always fixing something and tinkering with his smoke shack to get the right temperature, air flow, and humidity for the sockeye and king salmon he hangs. A lifelong resident of the area, he practices the craft passed down from the Aleut traditions of his heritage.
Nanci Morris Lyon is a woman of the wilderness. She grew up on a subsistence farm in eastern Washington state, and has carried that wilderness spirit with her in her journey to become a commercial fisherman, a fishing guide and finally, a sport fishing lodge owner in King Salmon.
Gayla Hoseth is a force of nature, striving to protect indigenous rights with a focus on preservation and access to Bristol Bay's natural resources as director of natural resources at Bristol Bay Native Association in Dillingham, and second chief of the Curyung Tribal Council. Born and raised in the area, she clings to the traditions she fights to preserve for indigenous tribes, such as learning to use an ulu (traditional knife) to fillet salmon from her grandmother.
Norm Van Vactor moved to Dillingham after graduating high school in the Philippines and soon became a deckhand on a tender (a boat which takes the catch from smaller boats to processors on shore). He's spent much of his life on deck or in processing plants, eventually becoming president and CEO of the Bristol Bay Economic Development Corporation, charged with ensuring the rights of fishermen and others who want to earn a decent living in the area.
Melanie Brown radiates love. She almost always has a smile on her face. She set net fishes with her son and daughter on the same sight her great grandfather established at the mouth of the Naknek River in the early 1900s, where thousands of sockeye funnel past heading many miles upriver to spawn. The one time I saw her really lose her smile was when she spoke about the impending threat of the Pebble Mine, showing her passion for protecting her rights, and those of everyone else who depend on the resource.
She wasn't alone.
Unity in opposition
Everyone I spoke to let their raw emotions show on this topic. And every one of them echoed one clear sentiment. The proposed mine threatens something more valuable than the gold, copper and molybdenum couched in the earth at the headwaters of the world's largest wild sockeye salmon run: the lives and livelihoods of thousands of people, natives, transplants and transient workers who depend on the health of that resource. And the economic impact of that resource cannot be overstated. The salmon fishery (both commercial and recreational) employs close to 15,000 people and generates a $1.5 billion economic impact.
My mission to Alaska was twofold. First and foremost, I wanted to connect with these people and capture their stories for podcasts and blogs that I will share for broad distribution. This pitched battle has national significance, beyond what's happening in Bristol Bay. These human stories will shed light on what's at stake when huge multinational interests driven by profit and greed paint a rosy veneer over the devastating impacts of their operations. They want everyone in the lower 48 to assume this mine will bring jobs and boost local economies, ignoring the imminent ecological destruction of when (not if) the mine fails and leaks toxic chemicals into a priceless and fragile ecosystem. Flying over the pristine, water-veined tundra near Lake Illiamna, I wondered how anyone who saw the ugly outcropping of buildings dumped on this wondrous terrain could possibly think this mine was a good idea.
Second, I wanted to experience Bristol Bay firsthand, picking fish in set nets, walking across the tundra to remote rivers and streams to fly fish, seeing life in Naknek and King Salmon, touring a processor, and meeting new people. I visited at a time when the sockeye run is again above projections, showing the resilience and bounty of the resource, especially when it's properly managed and allowed to thrive in healthy ecosystems.
I've done that. And there's still much more to do. Stay tuned for the upcoming Fish Tales Podcasts featuring Nanci, Melanie, Norm, Gayla, Al and others to hear them tell their stories, and why preserving the resource matters to them, everyone in Bristol Bay, and to all of us who stand witness to the fierce battle to protect a priceless, irreplaceable resource.