"Today is more of an exploratory day than a heavy harvest day. I like to switch up areas frequently and I'm on the hunt for a new clam honey hole."
And with that, Ana Shellem ended her text to me and continued to wade through the marsh in the waters off Wrightsville Beach, N.C. She's a friend and colleague who has collaborated on Slow Fish events and continues to advocate for responsible fisheries management in balance with ecosystem protections, direct and transparent supply chains, and support for community-based fisheries.
When she's not on the hunt for new honey holes, she harvests wild mussels, clams, oysters, and stone crabs that her almost fanatically loyal chef customers expect from Shell'em Seafood. She is harvester, processor (cleaning off the muck), distributor, marketer, CEO and chief hori hori knife (a gardening tool she uses to harvest) washer for her one-woman business. She also occasionally harvests sea beans, seaweed, cactus pads and prickly pear for her chefs.
Ana works the flats for up to eight hours before taking her harvest to the dock to be cleaned, sorted, bagged and put in her pickup truck for delivery that day or the next. Every harvest depends on Nature, or more specifically, tide, time and weather. The work is hard and variable.
She wouldn't have it any other way.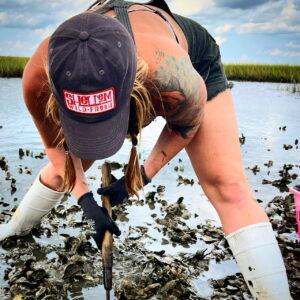 A different path in the mud
Ana is a conservationist. Every single clam, mussel, oyster or crab she harvests has already been spoken for by her customers. There is no waste.
That's what makes her story so unique. The traditional approach to shellfish harvesting is to grow it from spat, the small juvenile organisms often raised at commercial hatcheries. Then the shellfish farmer grows the bivalves over time in different gear such as bags or racks suspended in shallow tidal waters. The bivalves are transferred to larger confined spaces until they grow to market size. Then the farmer harvests a crop that is sold to various distributors and/or retail and restaurant outlets. Along with kelp and seaweed production, bivalve aquaculture is certainly a very sustainable approach to seafood production.
And yet, Ana will tell you her approach is less driven by supplying commodity markets and more by forging direct relationships with her customers. "Wild harvest feels more like a hunt or foraging," she says. "My situational awareness has to be so on point. I've had to learn to look at different soils, learn what streams go into the marsh from where, and what soils they introduce into the system and how that affects different beds." Spending time in Mother Nature is so important to me. My happiness in harvesting from the marsh is very apparent with chefs."
Ana has resisted the temptation to scale up because that would create a different business that may prioritize volume over those relationships.
Success built on trust
Trust is at the center of everything Ana does. "I've really had to learn that Mother Nature is always in control. For example, this week I can't get to the beds I want because of the wind [strength and direction], the tides [too high to access the beds] and moon cycle [influencing the tides]. Last week was great. I have to trust that it will be fine the next time around."
She is constantly on the water, keeping tabs of which beds are still largely in the early growth stages, and which are ready for harvest. She knows just when and where to dig the bivalves at the apex of their taste harmonies
Relationships with chefs and their restaurant staff are built on trust. Chefs place their orders and she harvests exactly what they want, no more, no less. The one constant is the high quality and absolute freshness of each mussel, clam, oyster, or crab she delivers because of the patience and care she puts into the harvest. That includes meeting all health and safety standards. "I just had my sanitation inspection, which happens every three months. There's a lot of responsibility on my end to make sure that temperatures are right and that the product gets delivered meeting all health standards."
When she's not on the water or in her truck for deliveries, she prepares for her role as a commissioner for the North Carolina Division of Marine Fisheries, which dictates policy for both commercial and recreational marine fisheries. Since Gov. Roy Cooper named her to the committee last year, she has been learning the ropes of fisheries management. She brings a fresh, conservationist, woman's perspective to the male-dominated commission and is learning how to navigate new challenges.
She faced some backhanded comments about her gender and ability to do the work on and off the water at the outset. "It used to bother me when I first got started, and I felt that as a woman in this field I had to go above and beyond," she says. "As the years have gone by and my abilities have blossomed, the camaraderie came with proving myself and building my reputation. A lot of people thought it was more of a hobby when I got started, but that's become less of an issue as time goes by."
If anything, Ana's dedication to direct, transparent supply chains built on trust and serving local communities is a reflection of many of the values that One Fish Foundation, Slow Fish North America, Slow Food USA, North American Marine Alliance, and Local Catch Network embrace. As she said during the Seafood Supply Chain Deep Dive session: "Moving toward a sustainable seafood supply chain starts with building connections, knowing the who, when, where, and how it was harvested."
Check out Ana's story during the Slow Fish 2021 Virtual Gathering here.
Check out this very cool video about Ana and the work she does.
Check out this New York Times article.
Top photo credit: Peter Taylor