Very little in fisheries management is black and white. This is a constant refrain in any conversations I have in classrooms or restaurants. It is often filled with paradoxes. For example, restrictions such as quotas are aimed at preserving a given species, but loopholes, vagaries in the law and profiteering have led to abuses that have jeopardized some stocks.
Look no further than the recent sentencing of Carlos Rafael, AKA the Codfather, after pleading guilty to 28 counts of fisheries fraud, or the administration's overturning of a federal agency ruling that New Jersey fishermen had landed too many summer flounder (fluke). Both issues are fraught with complexity, and both point to flaws in the current management system.
That's why we're hosting a Webinar next month – not to try to solve all of these complex issues, but rather to hone in on one critical piece of the puzzle that often gets overlooked: How to improve fish stock assessments and strengthen collaborative efforts between fishermen, scientists, and managers. We're going to discuss the idea of turning the current top-down management model on its head by localizing fisheries management and bringing fishermen further into the process of collecting data and determining policy.
We'll discuss long-term goals and obstacles to achieving a more balanced approach to ensuring the health of marine resources while supporting local fishermen and the coastal communities they serve. This type of approach would allow scientists, policymakers and fishermen working together, to respond more quickly to regional climate-induced ecosystem shifts.
This Webinar will posit these questions: What can we do to bridge the gap between fishermen, scientists and policy makers? Can we build fishermen's trust in management and data while still safeguarding the resource? Should we re-think the current fisheries management schema, including the data collection model, to respond more nimbly to rapid, often localized climate change impacts? Can we create a system that better protects the resource, supports local fishermen and strengthens coastal communities with a fishing heritage? How would such a system impact individual seafood consumers and institutional buyers?
The hope is this discussion will lay the foundation for more constructive dialogue, which could eventually lead to a framework for fundamental, meaningful change. We recognize that bucking the system carries additional barriers and challenges. That's why we have Health Care Without Harm (HCWH) joining us. HCWH has a proven track record of leveraging institutional buying power to shift major policy. By breaking out of the fisheries bubble and engaging HCWH, we can lay the groundwork for real change.
Join us online on Nov. 3 at 3 p.m. and become part of the discussion. Would you change fisheries policy now? What does a better management model look like to you? The panel discussion will last for an hour, followed by a moderated audience Q&A.
Here is the link to sign up for the discussion.
Panelists will include: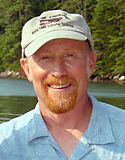 Bob Steneck: Professor of Oceanography, Marine Biology and Marine Policy School of Marine Sciences, University of Maine Darling Marine Center. Bob has been at the forefront of important research on lobsters, kelp and groundfish in the Gulf of Maine, as well as coral in the Caribbean for decades. He has a unique perspective on the dynamic ecosystem changes in the Gulf of Maine and the Caribbean and the recent history of data-driven policy.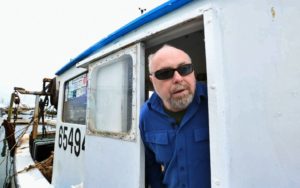 David Goethel: Commercial fisherman out of Hampton, NH and a three-term member of the New England Fishery Management council, which establishes many of the rules regarding groundfish harvest in the Gulf of Maine. He has also served as an advisor to several panels for the Atlantic States Marine Fisheries Commission, which also regulates many New England fisheries species. David brings a powerful perspective having been on both sides of the fisheries management dilemma.
John Stoddard: New England Regional Coordinator for Health Care Without Harm's Healthy Food i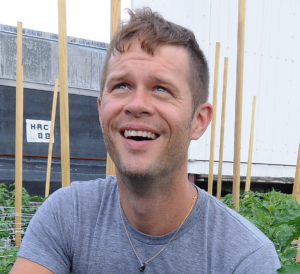 n Health Care program. John brings a compelling perspective from working with healthcare food services on what healthcare patients, staff and food buyers look for in sustainably harvested seafood. We know that improved science also affects individual consumers and institutional seafood buyers like hospitals. What role can seafood buyers play in helping improve the system?
Moderator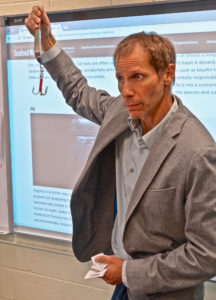 Colles Stowell: President of One Fish Foundation, a sustainable seafood education non-profit teaching consumers about why they should care where, when, how and by whom their seafood was harvested. Colles works with students in classrooms from kindergarten through college, and adults via community events to discuss a variety of crucial seafood sustainability topics ranging from harvest and aquaculture methods to climate change impacts and policy.